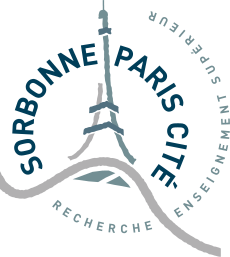 Page Web de la Chaire d'Excellence Sorbonne Paris Cité
Investissements d'avenir, Convention ANR-11-IDEX-0005
---
Participants au projet
Laurent Desvillettes (responsable du projet, Université Paris Diderot, IMJ-PRG)
Diogo Arsenio (Université Paris Diderot, IMJ-PRG)
Xavier Blanc (Université Paris Diderot, LJLL)
Dario Cordero-Erausquin (Université Pierre et Marie Curie, IMJ-PRG)
Théophile Dolmaire (Université Paris Diderot, IMJ-PRG)
Isabelle Gallagher (Université Paris Diderot, IMJ-PRG, détachée à l'ENS à partir de sept. 2017)
David Gérard-Varet (Université Paris Diderot, IMJ-PRG)
Bérénice Grec (Université Paris Descartes, MAP5)
Matthieu Léautaud (Université Paris Diderot, IMJ-PRG, puis à l'Ecole Polytechnique, CMLS, à partir de sept. 2016)
Nicolas Lerner (Université Pierre et Marie Curie, IMJ-PRG)
Sébastien Martin (Université Paris Descartes, MAP5)
Nicolas Meunier (Université Paris Descartes, MAP5)
Alessandro Zilio (Université Paris Diderot, LJLL)


---
Thèmes scientifiques
Equations cinétiques

Equations de réaction-diffusion en dimension finie et infinie

Equations de la mécanique des fluides

Applications en physique, chimie et biologie
Postdoctorants financés par la chaire
Helge Dietert (sept. 2016 – août 2018), en provenance de l'Univ. Cambridge (DPMMS), travaille en collaboration avec David Gérard-Varet sur le thème de l'amortissement Landau.

Esther Daus (janv. 2017 – juin 2017), en provenance de la TU Wien, travaille en collaboration avec Laurent Desvillettes sur le thème de la diffusion croisée.
Actions de formation liées à la chaire
Manifestations scientifiques organisées dans le cadre de la chaire
---
Publications liées à la chaire
Angel Calsina, Sílvia Cuadrado, Laurent Desvillettes, et Gaël Raoul: Asymptotic profile in selection-mutation equations: Gauss versus Cauchy distributions.
 Journal of Mathematical Analysis and Applications, 444, n.2, (2016), 1515-1441.

Tommaso Lorenzi, Rebecca H. Chisholm, Laurent Desvillettes et Barry D. Hughes: Evolutionary dynamics of phenotype-structured populations: from individual-level mechanisms to population-level consequences.
Zeitschrift für Andgewandte Mathematik und Physik, First online, 30 july 2016, DOI: 10.1007/s00033-016-0690-7. 

Fiammetta Conforto, Laurent Desvillettes et Roberto Monaco: Some asymptotic limits of reaction-diffusion systems appearing in reversible chemistry.
 Ricerche di Matematica, 66, n.1, (2017), 99-111 (special issue).   

Kleber Carrapatoso, Laurent Desvillettes et Lingbing He: Estimates for the large time behavior of the Landau equation in the Coulomb case. 
Preprint arXiv:1510.08704. A paraître à Archive for Rational Mechanics and Analysis.  

Maxime Breden, Laurent Desvillettes et Klemens Fellner: Smoothness of moments of the solutions of discrete coagulation equations with diffusion.
 Monatschefte für Mathematik, 183, n.3, (2017), 437-463. 

Etienne Bernard, Laurent Desvillettes, Francois Golse et Valeria Ricci: A Derivation of the Vlasov-Navier-Stokes Model for Aerosol Flows from Kinetic Theory.
Preprint arXiv:1608.00422. A paraître à Communications in Mathematical Sciences.
 

Laurent Desvillettes, Klemens Fellner et Bao Quoc Tang: Trend to equilibrium for reaction-diffusion systems arising from complex balanced chemical reaction networks.
 Preprint arXiv:1604.04536. A paraître à SIAM Journal of Mathematical Analysis.

Stéphanie Jenouvrier, Jimmy Garnier, Florian Patout et Laurent Desvillettes: Influence of dispersal processes on the global dynamics of Emperor penguin, a species threatened by climate change.
A paraître à Biological Conservation.